It appears that this player action was invented somewhere between 1912-1914 by the Schiller Piano Company. While an exact patent has not yet been located, there are other patents from that time frame that were issued to Schiller. However, one of the most unique features of this action is the arrangement of the pneumatic unit and the note valve. Unlike virtually all other player actions, the intake valve seat is located on the deck and the exhaust seat is located inside the pneumatic unit. Also, the deck is comprised of two parts. The wooden part contains the pouch and vacuum supply, and a metal part that's only 3/32" thick. A 1/32" gasket is between the metal section and the pneumatic unit. This action is very compact. It is a two-tier stack with 44 pneumatics units per tier. However, the deck portion of the stack is only about 3/4" thick and 3" wide.
A few other interesting features of a Schiller-made system came to light on August 10, 2020. In order of their appearance below: One: The logo for Schiller, Two: The serial number -indicating the piano was made in 1915, Three: A 6-bellow air motor, Four: The Schiller spoolbox with what appears to be an adjustment for fine-tuning the roll tracking sensors, Five: What appears to be the Tempo Control with Fast Rewind capability, Six, Seven, and Eight: The most interesting of all the features, a "Harp" device. When activated by a pneumatic (which is controlled by a pushbutton in front of the keys), the wooden dowels are pushed into the strings by the hammer shanks (of the corresponding note being played). So, instead of the hammer head hitting the strings, the wooden dowel hits the strings, creating a 'harp' type sound -similar to what we would more commonly call a 'Honky-Tonk' sound.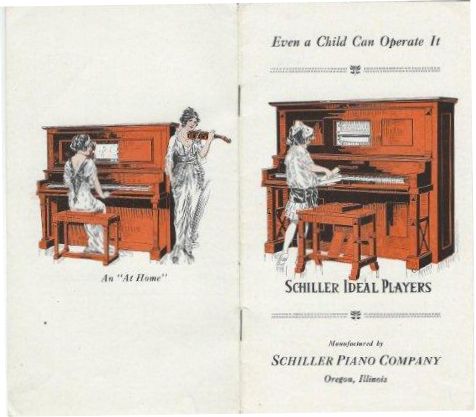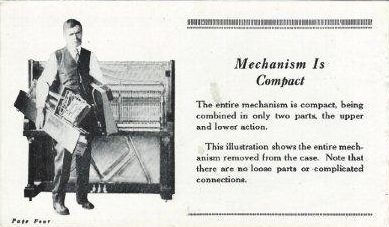 The images above are courtesy of Alan H. Mueller
Return To 'Piano Makers' Listing - Click Here!

Return to the Player-Care Home Page
This page was last revised on March 11, 2019 by John A. Tuttle.
Although I prefer that you send E-Mail, if you have a non-order related question, you can reach me at 732-840-8787. If I'm in the Shop or at Home, I will answer the phone. Otherwise, please leave a message.

407 19th Ave, Brick, NJ, 08724
Phone Number 732-840-8787