As I was disassembling a client's Duo-Art recently, I couldn't understand why the plug to the motor was unplugged and wrapped around itself and buried behind the motor. This was a combination foot-impelled, electric full Duo-Art that had previously been worked on. I immediately thought, being an English Steck, it had a 240 V. motor in it and that was the reason it wasn't played electrically. A close examination of the motor plate though, indicated that the motor was a 120 V. 60 Cycle A/C; so it would work, given it was still in decent shape. I removed it and tested it and aside from some clattering which could be easily repaired, it was a good motor and didn't even get past warm after 30 minutes. Then why was it unplugged?......ah ha! The switch! I then examined the beautifully original British switch; aside from a little stiffness which a squirt or two of WD-40 remedied, it too was ready for action with no problems. Then I really noticed the condition of the wire- not the immediate, apparent maroon cotton wrapping, but the hardened, cracking and chipping rubber insulation underneath the covering. (See Illus.1a and 1b)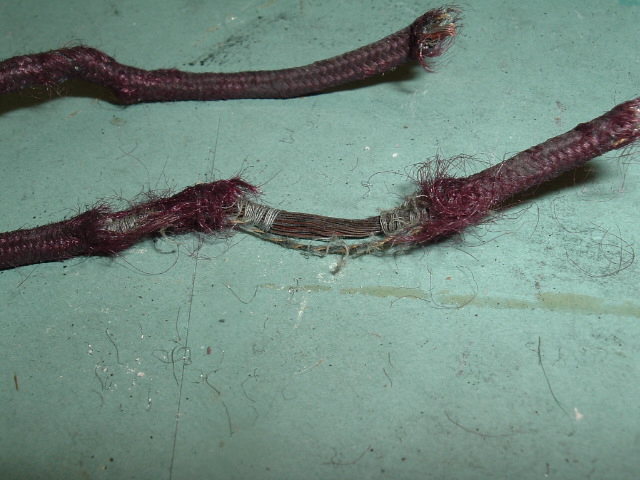 Illustration 1a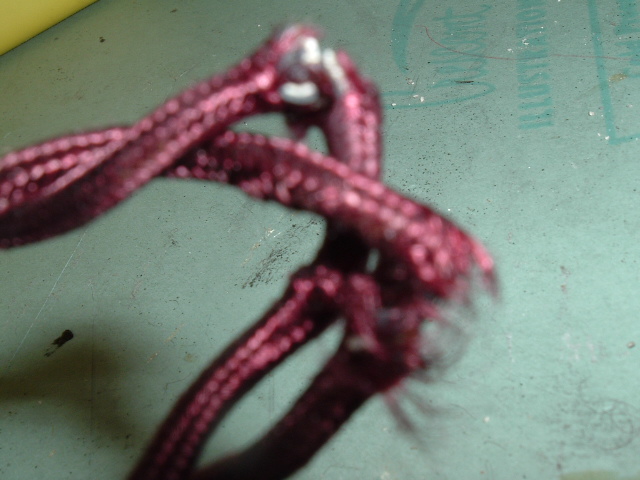 Illustration 1b
I unwrapped the wire, noting how stiff and brittle it was. As I removed it from the protective conduit shielding (Operator's Piano Co. uses a similar type of conduit-encased wire), I found several spots where the rubber had literally disintegrated exposing the copper strands and obviously setting up a short for the system. No wonder the motor was disconnected.
I replaced the wire with standard Black and White #16, but using separate leads, a wrapped two-lead wire wouldn't allow air to circulate around the heated wires contained within the conduit. Now you can and should replace the twisted cotton wires with the same type, although the color will be different, from Sundial Wire Co., but my client opted for what I had on hand immediately, modern black and white single strand. (See Illus.2)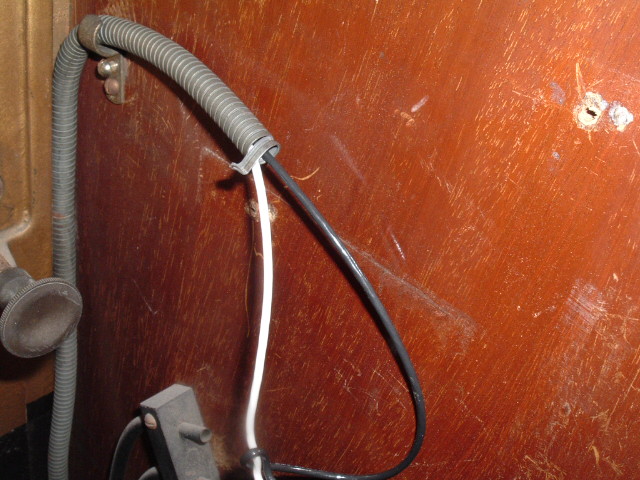 Illustration 2

When restoring antique electrically-driven instruments, don't forget that natural rubber was originally used to cover the metal electrical wires- it is as hard and cracked as other rubber elements that are now 80-100+ years old and must be attended to, or a serious fire hazard may result. And any musical instrument that has survived a fire isn't the easiest to restore, if it is salvageable at all.

I recommend:

Replace existing wiring if the rubber shows the least bit cracking or gumminess with vintage wiring replicas as offered by Sundial Wire; in fact, the single-wire larger gauge with cotton insulation is exactly like what Seeburg used and fed thru their famous large insulation coverings (shielding). Just don't use two-lead pre-covered wire; use two strands of single wire thru the conduits due to heating up and air circulation considerations.

Check the motor for wear and clean out the lubrication cups and channels. Use a good grade electric motor oil or light grease as directed by the manufacturer. Inspect for signs of trouble like scorched insulation paper, unusual signs of wear, etc. Before re-installing the motor, run it for a couple of hours and take its temperature, making sure it's just warm, never hot. Unlike the "heaters with armatures" they dare to call motors today, the old-time cast iron motors were so well designed and engineered they will probably still be running after your grandchildren are grandparents.

Signed: Stephen K Goodman

- - - - - - - - - - - - - - - - - - - - - - - -

Stephen sent me a follow-up email to the article and wrote:

Attached is another photo of a plug from an actual player fire - not pretty.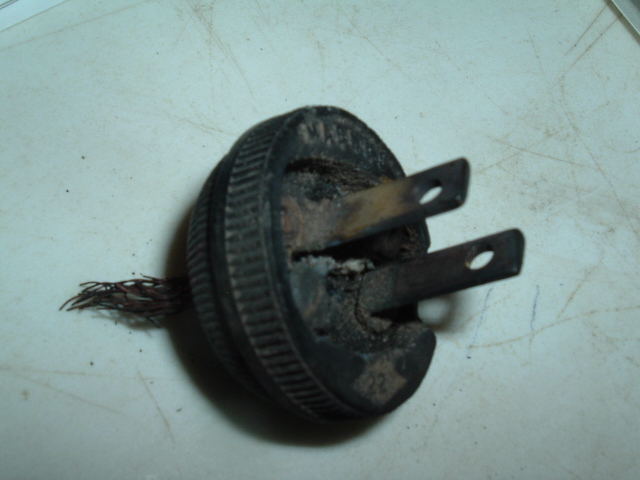 =============================================
I want to personally thank Stephen for considering Player-Care as an appropriate place to archive the information in his fine article. Hopefully it will help avert a situation like the one which caused a fire in someone's player piano...... John A Tuttle