Aeolian players with Replay function.
One of the things that's not covered very well in the Aeolian Service Manual (which is also called the "Service Manual for the 64-note and 88-note Standard Pneumatic Action Player-Piano"), is the Replay function.
In the pictures and diagrams below, the parts that are involved are shown and labeled.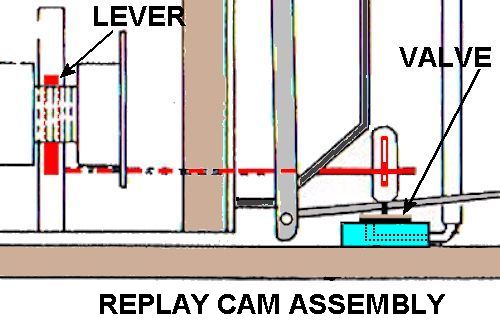 How the Replay feature operates is fairly straightforward. As the music roll is wound onto the take-up spool, the LEVER (that's resting on top of the groove in the take-up spool), is lifted up and out of the groove. This upward movement, of the lever, allows the plunger valve (marked 'VALVE' in the diagram) to drop down, which covers (or closes) a Small Hole (that's just to the left of the plunger valve stem) in the wooden block. (This hole is marked in your picture, but it can't actually be seen. I would like a picture that shows the hole.) When the hole is closed, both the Replay Bellow and the Shut-Off Pneumatic are relaxed and the music roll can be played.
At the end of the music roll, special perforations in the roll open the holes at the far ends on the trackerbar which activates the Auto Rewind feature, and the roll starts rewinding.
As the roll reaches the very end and the last layer of paper is unwinding off of the take-up spool, the LEVER drops back into the groove on the take-up spool. This action lifts the Plunger Valve upwards and 'opens' the Small Hole (mentioned above). If the Replay Switch is in the 'On' position, a signal is sent to the Replay Valves, which causes the Replay Bellow to collapse, which shifts the Transmission back into the Play mode. This cycle will repeat indefinitely as long as the power is on and the Replay switch is in the 'On' position.
When the Replay Switch is in the 'Off' position, the same signal that was previously sent to the Replay Valves is now sent to the Shut-Off Pneumatic. That signal causes the Shut-Off Pneumatic to collapse, which shuts of the electricity to the Vacuum Pump.