Quite often I hear the comment, "My legs get tired when I pedal my player piano". My instant reply is, "You're probably doing it wrong!"
Most people think that you should sit at the player piano just like you would if you were playing the piano by hand. Nothing could be further from the truth. If you sit too close to the piano, you will have to move your legs up and down when you push on the pedals, and your legs will get tired very quickly.
The correct position of the piano bench should be such that only YOUR ANKLES move when you pump the pedals. For comfort, your knees should be bent at an angle that is similar to that of a coat hanger.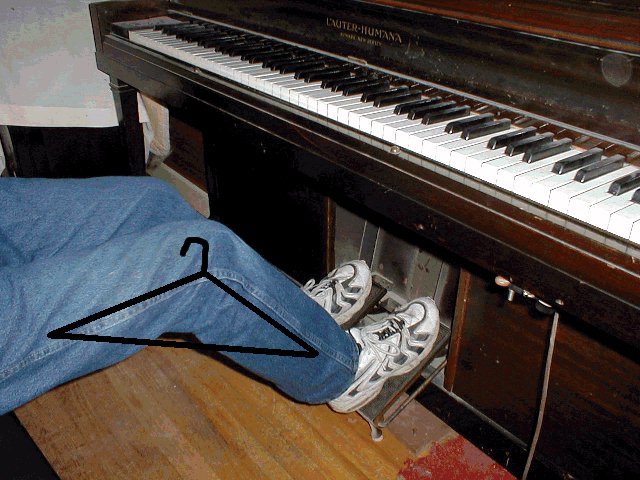 To making pumping the pedals even easier, I highly recommend the installation of "bench props". These simple pieces of wood raise the back side of the piano bench top about 1-1/2". This helps to keep your bottom from sliding off the bench and reduces the need to 'hold on to the piano' when you pedal. The props are installed on the inside sides of the bench such that they flip (or rotate) out from inside the bench and rest on the tops of the back bench legs.
Here's a short video that demonstrates the correct pedal technique.
For more information about Proper Positioning, see:
http://perso.wanadoo.fr/pleyodeo/HTML/manuelod.htm