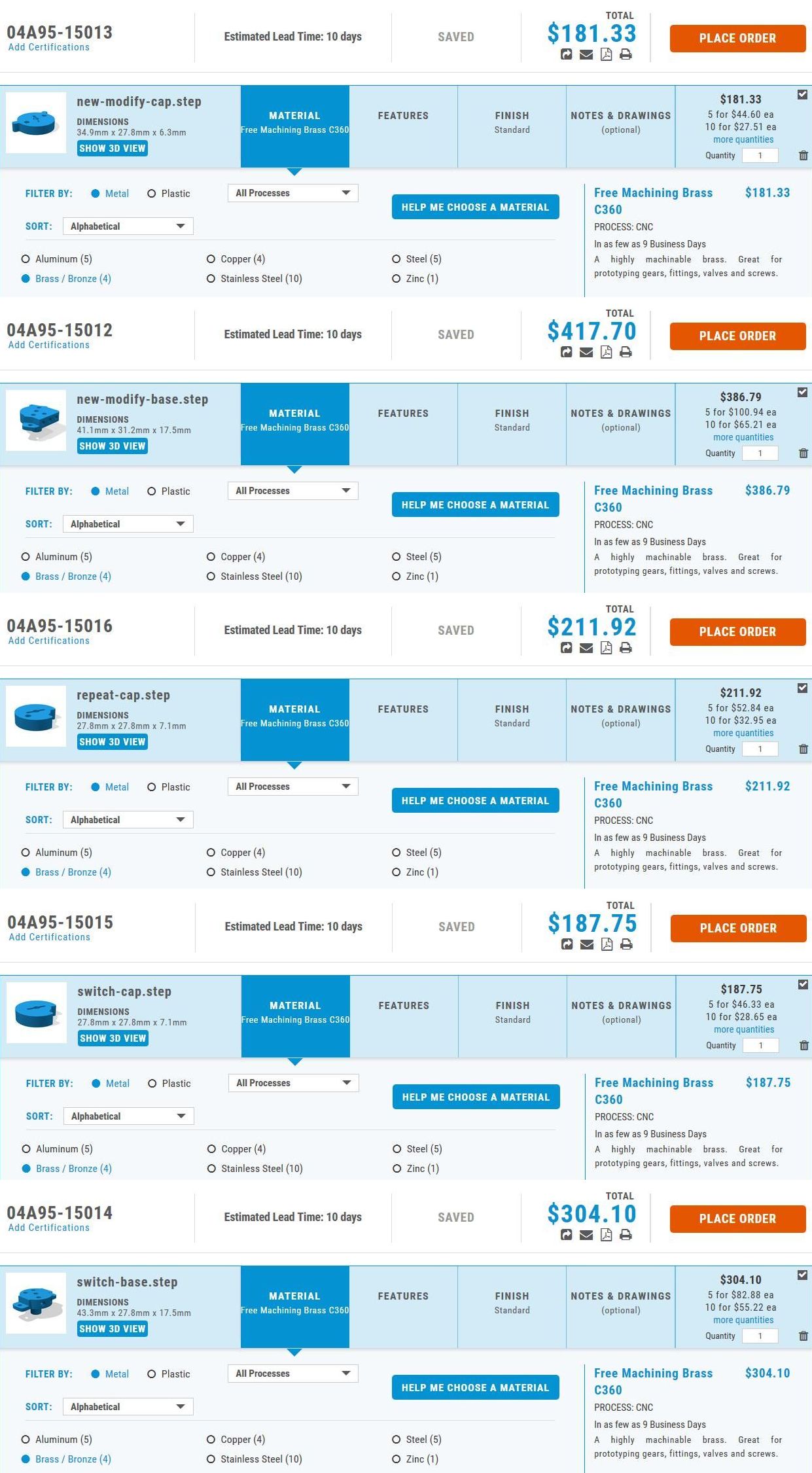 If there were just ten sets of switches manufactured, the costs would be as follows.
1 ea. new-modify-cap: $27.51
1 ea. new-modify-base: $65.21
1 ea. repeat-cap: $32.95
2 ea. switch-cap @ $28.65 ea.: $57.30
3 ea. switch-base @55.22 ea.: $165.66
----------------
Total: $348.63

Obviously, more than ten sets were manufactured because the sale price is $325.00. It should also be noted that these are only the costs for the raw parts, which are machined to within +/- 0.001" accuracy. After receiving the parts, the holes in the side of the bases have to be precisely sized for the straight nipples, which are press-fit into place. After that, a hole must be drilled into the nipple that was pressed into and through the lead hole in the repeat switch. Next, the eight mating faces have to be lapped with 600, 800, and 1000 grit wet/dry paper, and then 2000 grit wet/dry paper, and tested to insure an air-tight seal. Next, the stop pins have to be pressed into place. Lastly the 90 degree elbow must be press-fit into the repeat switch. The completed switches look like this:

If anyone is interested, I'll sell the CAD files used to make these switches for $3000.00. Over a dozen sets of original and replacement switches were used to extract the various measurements required to make the switches. During the measuring process, it was found that those who previously made replacement switches never stopped to actually figure out the precise, but relatively simple, angles of rotation, and placement of the groove in the top portion of the switch. After numerous unsatisfactory attempts to copy the original and replacement designs, the decision was made to reverse engineer the switches. It was during that process that the relative simplicity of the original design was discovered.