A Labor of Love
Kohler & Campbell "Tom Thumb"
This page takes at least a minute to load!
---
Every now and then, I am challenged with rebuilding an instrument that really belongs in the junk yard. Against my recommendation, I was paid to repair and refinish this piano. I later discovered that Irving Berlin and his wife played this "Tom Thumb" in the Club Holland (or Holland Tavern) in Soho, NY, now known as the West Village. Located on Watts St. between Veric and 6th Ave (which later became the Avenue of the Americas), Irving and Ellen are said to have spent many hours playing this piano. It is also said by Elizabeth Paggioli, neice of the owner, that Irving started composing the song "I'll Never Smile Again" for his wife while visiting the tavern, which was very popular during the 30's.
Below are some of the many pictures I took of this instrument which graphically depict the damage and the final results. According to the owner, who collects numerous antiques, she has received more glowing comments about this piano than any other piece in her collection. In return for the small fee I charged, I was allowed to spend as long as I wanted to do the work. It took me almost three years to complete this job. It became a labor of love.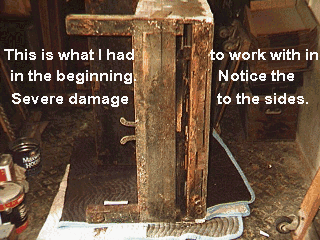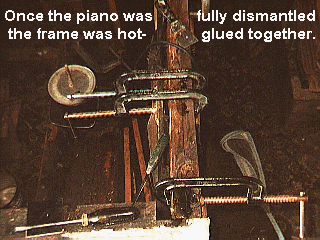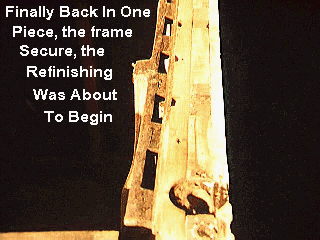 ---

...Back To Top
The historical information concerning Irving Berlin was given to me by Ms. Paggioli, owner of the Kohler & Campbell "Tom Thumb", one of her four pianos. By the end of 1998, I will have rebuilt three of her four instruments.
This page was created on December 19, 1997 by John A. Tuttle.

Comments or Questions to: John A. Tuttle (Site Designer/Composer/Rebuilder)
Now Playing: Midi File called Midnight , which was first conceived in September of 96. These tracks are presented in their unedited form exactly as I recorded them on 3/19/97. They need some work for sure but I doubt I'll have the time to do it. If someone wants to do it for me, I'll give them a Special Link at the top of this page for their effort.

...Back To Top