While there is no argument about the fact that it is vacuum which makes the player piano work, it is the bellow which uses and creates that vacuum. The average player piano contains one hundred bellows of various sizes and each bellow has its own job. In order to operate correctly, every bellow must be air-tight. Also, every bellow works together with a valve of one sort or another.
Since Chapter 1 dealt with the note, or poppet, valve it seems appropriate to continue with the note bellow, or striker pneumatic. In the drawings below, the bellow is mounted on a "wind chest" which acts as a channel between the valve assembly and the bellow. Typically, the bellow would be mounted on the underside of the wind chest but for purposes of explanation and ease of understanding I have placed it on top.
Referring to Figure 8, when the pouch rises, it pushes the valve (in red) up and closes off the exhaust port.
This allows the vacuum, from the source, to pass through the valve guide into the upper half of the valve assembly and from there into the bellow. As the vacuum sucks the air out of the bellow it collapses and activates a note on the piano. When the pouch relaxes the valve drops back to its starting point and seals off the port through which the vacuum passed and in doing so simultaneously opens the exhaust port allowing outside air to rush in and "fill up" the previously collapsed bellow (see Figure 9). At this point it should be noted that the configuration of the wind chest is a bit more complicated than the drawings indicate.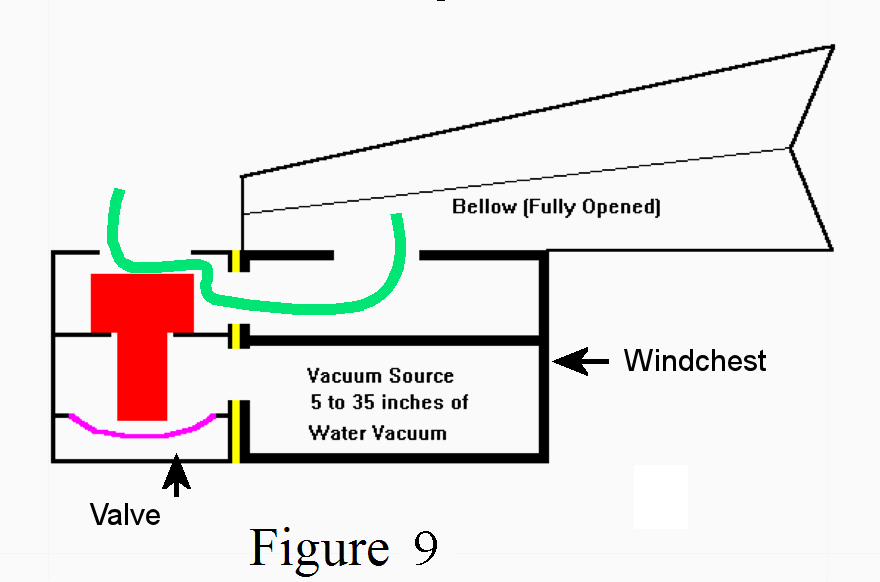 To begin with, as stated earlier, the bellow is normally mounted on the bottom tier of the wind chest so that when it is activated, or closed, the moveable board will travel in an upward direction pushing on the underside of a key or a tab protruding from the action of the piano. And since the weight of the piano key or the piano action is resting on the moveable board there is a natural tendency for the bellow to return to an open position once the valve is deactivated.
To Be Continued