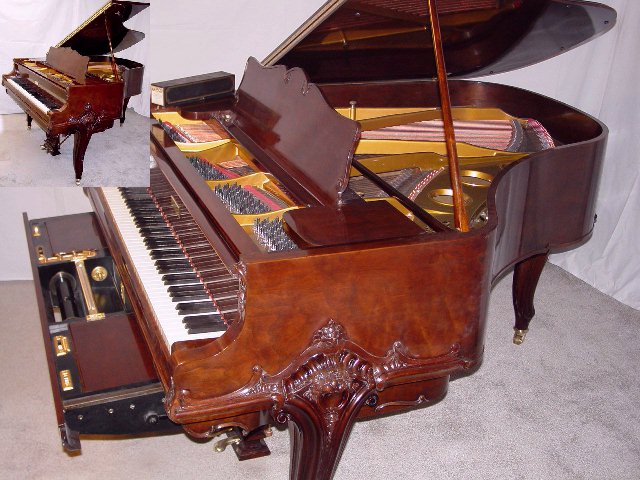 This Knabe Louis XV Ampico Grand is a beautiful piano in all aspects. Recently restored from a previous "restoration" in which everything was done wrong. For instance, the wrong hammers were used, the hammers were also drilled with a pitch angle and struck the string in the wrong place, the backchecks were badly mispositioned, even the treble bridge was misplaced. The new pinplank was the wrong thickness, and the plate's height above the soundboard totally wrong. In short, the piano arrived having a mediocre tone and lousy action. Then the player had obviously been retrofitted with a different player stack that didn't fit. The player had been rebuilt with several kinds of hardware store glues and you have the "high-priced miserable mess scenario" that is so often found in these players, nowadays.
While it required much extra time and effort, the work was well worth it, as this piano has no weak points at all, and I think the tone created by starting from scratch makes this instrument very special. It is, without a doubt, one in a thousand, tone and power-wise. I've never heard better.
Besides that, it is rare, but one of the most desireable grands ever manufactured. One dealer listed the present worth of this player, when fully detailed and restored with the original high polish finish in Italian walnut, at about $70,000 over 15 years ago. The value of all pneumatic players which are restored thoroughly, without shortcuts, will last probably 60-70 years in filtered, climate-controlled homes today, and their value is already climbing. But the value of reproducers is today tied directly to performance, appearance, and in whose shop the work was done, which of course we think is a wise method of valuing anything.
Craig Brougher