Shipping & Packaging...
Shipping Large Instruments
"Why Ship A Piano?" - Click Here!
While many customers have chosen to bring their instruments to us in order to meet me personally and to see the shop, and even to stay with us for awhile, you should not feel as though you have to do that to get our full attention and service.
I normally recommend a specific piano moving company to move instruments or collections for restoration. They are excellent, insured, reasonable, and safe.
You will be able to keep your instrument until I am ready to take it. Our contract will be signed and dated, of course, and you are then put on a waiting list until your name appears a few jobs below the one I am presently working on. At that time, I call you by phone and we arrange together to have the instrument shipped.
Always insure for replacement value. Your homeowners insurance should cover any instrument(s) which have been moved to my shop for repairs.
Shipping player parts and large components:
(We suggest UPS for most parts)
We receive many player parts for rebuilding. The same guarantee applies to everything we do. If you ship us your parts for rebuilding, we cannot guarantee performance of the instrument, but we do guarantee the parts, just the same, as long as you haven't modified them, of course.
Player stacks and large pumps will ship in heavy cardboard if well padded. Stacks with strikers which stand above the stack are fragile compared to the overall weight, but all you usually have to do is tape two boards or reinforcing panels on either side of the striker line, making a 'sandwich,' first, and make sure that the inside board is resting on the top of the stack.
Rotary box pumps have large pulley wheels which must be supported by wedges against their cast iron plates, or they can get broken. Drive about 5 or 6 wooden wedges tightly enough that they won't fall out, or just tape them on, and as long as the pulley can't flex, it will be ok. Rotary box pumps for uprights which have their own mounting board extending past their box sides should be shipped with that removed and included. Other pump styles with external cranks must have good support or cushion provided for their pulley wheels so that dropping their carton won't break them.
We have restored the parts for many reproducer grands and uprights in this way, over the years. All have been totally successful. Feel free to contact us for particulars. Remember, special crating and wooden boxes have never been needed, although you will have to build your own carton, usually. Luckily, this is fairly easy to do.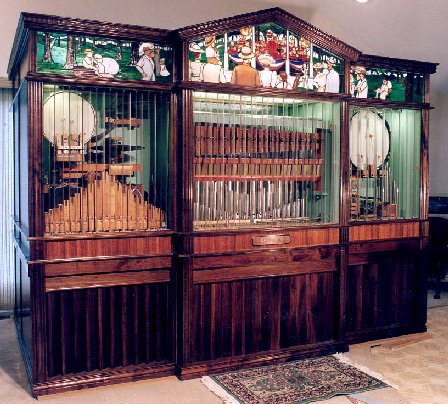 Even the largest instruments will ship fairly easily and safely. SOFI, while a very large orchestrion, is actually prefabricated in such a way that most of her parts are no deeper than 18" so she disassembles and ships very easily. She even has a special container built to hold her solo pipes in individual padded slots, so no time will be wasted revoicing and repairing pipes. She is drawn together with screw connectors and threaded inserts, and may be quickly dismantled and reassembled. Visit the only web site dedicated to this marvelous musical masterpiece, Click Here.
This Web Site Hosted is by:

407 19th Ave, Brick, NJ, 08724
Phone Number 732-840-8787