In an effort to figure out exactly what the engineers at Ampico were thinking when they created the funcion switches, I've examined dozens of original and after-market switches. While it's obvious that some relatively minor changes were made to the molds that Ampico created, determining why they made those changes is quite difficult. Fortunately, the basic angles, thicknesses, spacings, and hole sizes remained fairly consistent.
What's obvious to those who do CNC machining (as opposed to those who make molds) is that the cost goes up every time a different tool is required in the cutting process.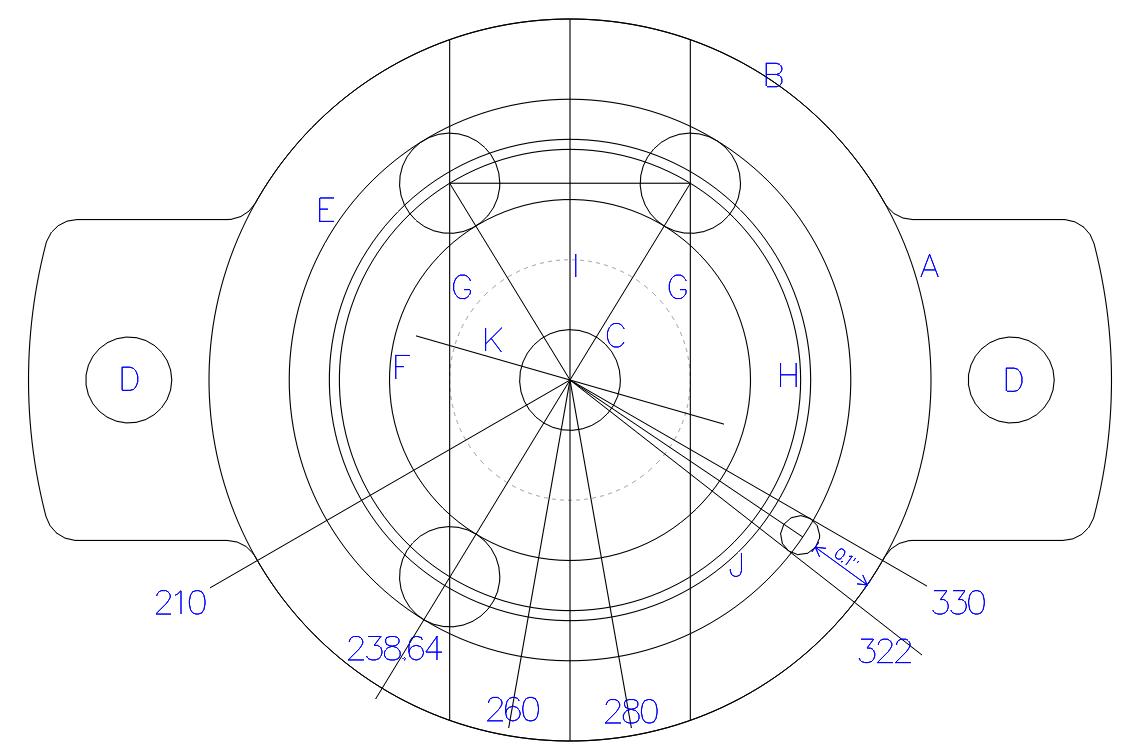 Ampico 'A' Function Switch Specifications

Order of events when creating the CAD file

NOTE: Letters in brackets [] denote specific locations in drawing.
Diameter of face on base -create circle: 1-1/8" [B]
Draw horizontal and vertical lines from center way out beyond the left, right, top, and bottom edges of circle
Extend those lines out beyond the sides of the base circle by at least 50%. (These are reference lines.)
Overall length/diameter with flanges -create second circle: 1-11/16" (1.6875")
Width of flange: 1/2"
Using the center horizontal line- copy, then paste that line 1/4" above and below the center line.
Using 'intersect tool'- highlight all line. Then eliminate all but the bottom base shape.
Thickness of flanges 9/64"
Set the thickness of the base to 9/64" (0.141")
Create another 1-1/8" circle [A] , starting at center of base.
Overall thickness 5/16"
Set thickness to 5/16" - 9/64" (base) = 11/64" (0.1715")
Diameter of center hole: 0.166" (#19 drill) -create hole [C]: air inside
Spacing of mounting holes center-to-center: 1-3/8" (1.375") or 1-13/32" (1.406"
Distance from center to mounting holes: 0.6875" (11/16"), draw line from center to left or right side.
Diameter of mounting holes: 0.123" -create mounting hole [D] (left or right side) - air inside.
Highlight line and hole - copy/paste at 0.0000" -flip to opposite side. Erase horizontal line.
Round inside and outside corners to 0.005"-0.250" (larger is recommended by eMachine for cost reduction)
Outside edges of function holes in base are 1/8" from the edge of the main circle.
Create 7/8" circle (0.875") [E] for outside edges of function holes.
Create 23/32" (0.719") [F] circle for center location of function holes. Draw vertical line through center of circles for reference.
Center-to-center of function nipples is 3/8"
Draw vertical line (270 degrees)from center hole to edge of main base circle [I]
Copy/paste vertical line 3/16" (0.1875") to the right [G] and left [G] of placement of holes through switch and centering of holes in face.
Create 0.7187" circle [H] for cross reference for exact hole placement.
Diameter of function holes on base face: 0.154"
Create function holes at intersection of [G] and [H] in three locations. Two intersections at the top of the switch and one intersection at the bottom left of the switch.
Draw reference lines from center hole out, beyond far edge of base circle [A] at 210, 260, 280, 326, and 330 degrees. These are reference lines for the cut-out in the top cap and references for cap rotation.
Distance of stop pin from center of switch, angle of stop pin from center of switch, diameter of stop pin
Reduce length of line at 326 degrees to 0.4354" and create stop pin hole (diameter 0.061") at the end of that line.
Create 3/4" (0.750") reference circle [J] for cut-out in top cap.
Depth of holes in face: -0.2"
Depth of holes in side of switch: -0.791"
Diameter of protrusion on back of switch: 0.375"
Height of protrusion on back of switch: 0.375"
Guide pin groove for switch lever [K] at 16 degrees (from dead center) below a vertical center line and 1/2" in total length and 1/16" wide, depth is 0.044" NOTE!!! MODIFY SWITCH ROTATES 126 DEGREES
Guide Pin for groove in Modify Switch offset by 60 from horizontal or 30 degrees from vertical.
Angle of holes from center of switch 121.45, 58.55, 238.51
Distance from center of switch to center of holes in face
**Inner edge of cut-out in top cap -diameter equals 3/4" (0.75") YouTube videos:
https://youtu.be/A9kdMkh4xVI

https://youtu.be/VD41saIe_gY