Hi John: Hate to bother you. Searched your site. Problem; Aeolian transposing tracker bar, knurl knob slips, runs free most of time.
How to fix?
Thank you.
steinwaybill1
=========================end question===================
Here are pictures which show the knob and indicator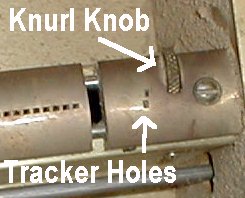 ========================begin response==================
Hi Bill,
It's not terribly difficult..... The steel rod that goes into the trackerbar was force-fit into the brass. The end of the steel rod was knurled, which made it slightly larger than the hole in the bar. Unfortunately, 're-knurling' the rod would require removing the trackerbar, and that simply isn't practical.
What I have successfully done in three instances is to shift the position of the movable part of the bar all the way to the left, and then (using the knurl knob) pull the rod as far 'out' of the bar as possible (there's only so much thread on the rod). Then, using a center punch, center-punch two points on opposite sides of the rod about 3/16" from the right hand end of the movable portion. Next, force the movable portion back to the right by hand. (It will most likely only move about 3/16" or so.) Then, using a very strong, thin piece of hardened flat steel (like a metal file), insert the piece of metal in the space on the left hand end of the bar (between the movable portion and the stationary piece). Then, using a hammer, tap the movable portion to the right until it is 1/16" from the stationary piece on the right. Next, turn the knurl knob and move the bar all the way back to the left. Lastly, using Krazy Glue, apply 1/2 of a drop to the rod where it goes into the bar, and let it dry. (Allow 10-15 minutes.) Lastly, using the knurl knob, position the movable portion in the center - between the two stationary ends.
(This email will undoubtedly be added to the "Tips & Tricks" portion of the Player-Care site.)
Musically,
John A. Tuttle
Player-Care.com
Brick, NJ, USA
==========================end response========================