Service/Technical Manuals -
(click)
Repair Parts & Supplies -
(click)
Testing the Player Piano -
(click)
Player Technicians Listing -
(click)
Player Piano Makers -
(click)
Player Piano Roll Makers -
(click)
Player Piano Vacuum Pump Kits
Full Automation Kits, Auto Rewind, Auto Shut-Off
What if the pump box doesn't fit inside the piano?
.
---
.
Deluxe Full Automatic System Kit....$625.00
(Kits are now bing made on an 'as needed basis' -More Info-Click Here)
Guaranteed and Supported by Player-Care
Contains everything in the 'Regular' kit plus an Auto Re-Roll Device and an Auto Shut-Off Device. Everything you need to Electrify and Automate your Player Piano. Complete with installation instructions, tubing, connectors and wiring. Playing a roll becomes a 'push-button' operation. One year guarantee on all electronics, five year guarantee on the vacuum pump. Space required for the pump is 8" square by 10" high, normally installed in the bottom of the piano on the right hand side of the Exhauster Assembly.
Installation Instructions/Diagram/Pictures -click here. To place an order, Click Here.

---
---
.
Automatic Rewind Device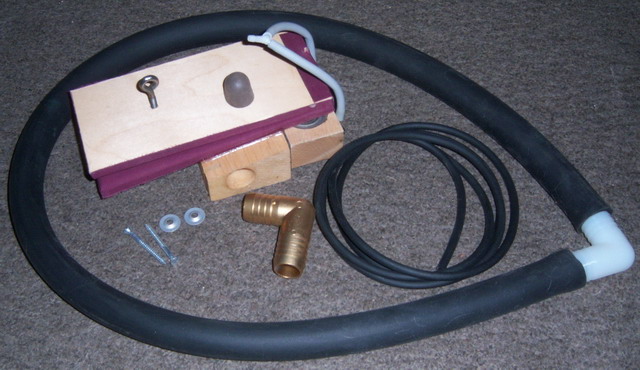 Designed primarily for players that have already been electrified, this device will shift the transmission from Play to Rewind at the end of the music roll. It is triggered into operation by perforations that are located a few inches past the last playing notes, which are common on almost all music rolls. To view the Installation Instructions, click here. The cost is $172.50, which includes 3 ft of vacuum supply tubing, connecting elbows, trackerbar tubing, and associated mounting hardware. Shipping charge is $19.95 within the US and $48.00 to most overseas countries. Insurance is additional. To place an order, Click Here.

To purchase replacement block valves for this device -click here.
---
.
Automatic 'Off' / Pushbutton 'On' Device
This is the Automatic Shut-Off and Pushbutton 'On' Device that's part of the Full Automation Kit. It comes with about 8 ft of line cord, required hardware, and instructions for mounting the unit in the spoolbox. This device can be easily wired into an existing electric vacuum pump system, and replaces the regular on-off switch. Cost is $124.00 ea. Minimum Shipping charge is $7.95 within the US. $26.50 to most overseas countries (same conditions apply). To place an order, Click Here.
.
Regarding shipping, items are combined into one order whenever possible to save on the cost of shipping. By default, all goods are shipped via USPS Priority Mail in Flat Rate boxes or envelopes with Delivery Confirmation. Unless otherwise noted, the Minimum Shipping charge within the U.S. is $7.15. To read our 'Returned Goods' policy, please click here. To read our Privacy Policy, please click here.
Player Piano Parts and Supplies: I have literally thousands of miscellaneous parts and supplies for player pianos; some new, some used. If you can't find it anywhere else, send me an email (click here) and I'll try to locate it for you. Since I no longer service or rebuild players, everything I've collected since 1972 is for sale.
For more detailed information about how business is conducted at Player-Care -click here.
---
We Gladly Accept These Cards


---
This page was last revised January 28, 2017 by John A. Tuttle, who Assumes No Liability
For The Accuracy or Validity of the Statements and/or Opinions
Expressed within the Pages of the Player-Care Domain.
Cartoon Graphics by E7 Style Graphics (Eric T Styles)

---
---
Since "Player-Care" is an internet business, I prefer that we correspond via E-Mail (click here to fill out the 'Request Form'). However, if I'm not in the middle of some other activity, you can reach me at 732-840-8787. But please understand that during the hours from 8AM-5PM EST (Mon-Sat), I'm generally quite busy. So, I probably won't answer the phone. If you get the answering machine, please leave a detailed message stating the reason for your call. Also, repeat your name and phone number clearly and distinctly. By necessity, I prioritize everything in my life. And, if you call and just leave your name and number, and ask me to call you back, it might be a day or two before I return your call. Why? Because I don't know why you want me to call and I might not be prepared to assist you in an effective and efficient manner. If you leave me an E-Mail address (which I prefer), spell it out phonetically. The more you do to help me, the more I can help you in return. Don't rush. You have four minutes to record your message.
---

407 19th Ave, Brick, NJ, 08724
Phone Number 732-840-8787
Google Adsense Ad