As the pictures below show, suspending the heater rod between the two inside sides of an upright player piano isn't especially complex. Naturally, some care will have to be taken in sizing the lengths of picture wire. I would make each length of wire long enough to attach to itself. Like a complete loop, as opposed to a single strand. I've included a mini-sample of how I would twist the Picture Wire, connect the Spot Tie and create the 'loop' at the end where the wire gets attached to the eyehook.
---

The heater rod should be positioned such that it is about three
inches down from the top of the spoolbox.
---

The heater rod should be positioned such that it is about three
inches from the piano action and the back of the spoolbox.
---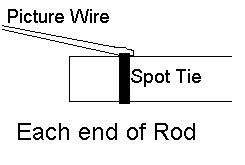 When the Spot Ties are attached to each end of the heater rod,
the length of Picture Wire (approx four feet) should be laced
around Spot Tie as it is pulled/secured very tightly around the Heater Rod.
---

The Electric Cord should follow the Picture Wire until it is about 3" from
the side of the piano. At that point, a Spot Tie should be affixed to the
Picture Wire with the Electric Cord laced inside. Then, physically bend the
Electric Cord and feed it out the backside of the piano. There is plenty
of clearaence between the top of the pin block cap because of the top
hinges, so the Electric Cord will not be crushed (or squeezed) by the weight
of the top.
---
Naturally, the positioning of the two eyehooks (to which the Picture Wire will be connected) is pretty important. They should be positioned about 1" down from the top edge of the side.
If need be, loop the picture wire around the Spot Tie at the point where the Electric Cord changes direction to hold the Spot Tie firmly in place.
Also, my suggestion to make each piece of Picture Wire into complete loops is done in the interest of making the entire array easy to remove from the piano when it's time to tune.
---