Below is a link to pictures of the Wurlitzer 1203. The two most common models were the Model 1202 and Model 1203. The most notable difference between the two models is that the Isolation Transformer (in the bottom of the piano - connected to the A/C power cord) is not fused in the Model 1202. In the Model 1203 there is a 12 amp fuse in the A/C line. The company also made the Model 1402 in the late 1960's.
We recently heard about a company that still has parts for the Wurlitzer. Morelocks Organ Service, in Reinzi, MS. They bought all of the spare parts for these pianos in the seventies when Wurlitzer stopped production. The latest phone number we have is 662-462-7611.
The view (directly below) of the Wurlitzer 1202 (serial number 993929) was provided by Thomas E Clemens.
Tom sent me a number of other pictures which you can view by clicking here.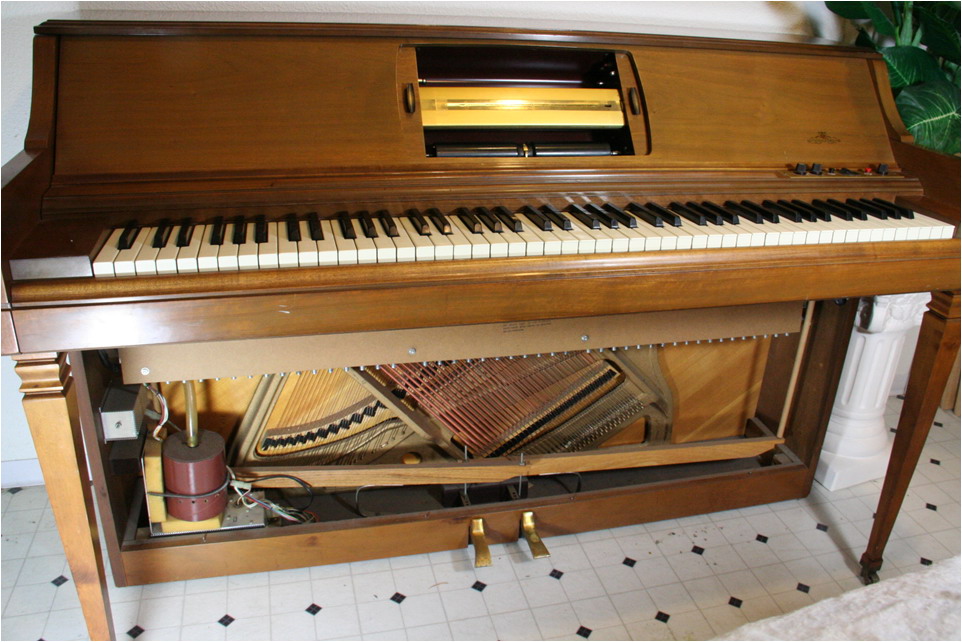 Wurlitzer 1202
To view the Wurlitzer 1203 Operating Instructions - click here. To view the various internal parts of the player mechanism - click here. (Photos provided by Paul J. Benner, Sr.)